Thank you to everyone for the support and patience shown as we prepare for the 2020-21 school year!
Click on the icon below for the Returning to Learning plan for Detroit Lakes Public Schools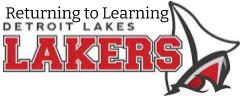 First Day of School for ALL Rossman Elementary Students
THURSDAY, SEPTEMBER 17, 2020
Week of August 31st - Teacher placement letters will be mailed out.
Week of September 7th - Back to School Conference sign up times will be sent out. More information on how to sign up to follow.
September 14, 15 & 16th - Back to School Conferences. You will be able to meet with your child's teacher, bring in supplies and tour the school.
September 17, 2020 - FIRST DAY OF SCHOOL
Parent Guardian Guide and Refusal for Student Participation in Statewide Testing