Click on the icon below for the Distance Learning Plan for Detroit Lakes Public Schools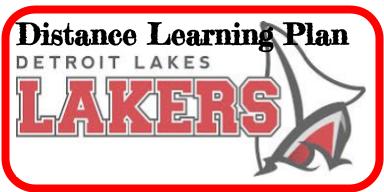 Food Service: School breakfast and lunch will be provided free of charge to Detroit Lakes students 18 years of age and younger. This service will continue while schools are closed. Each student will receive lunch for that day and breakfast for the following day. Meals are able to be picked up, and will be brought to you curbside at the following locations:
-Richwood Store from 11 AM -12:30 PM Monday - Friday
-Roosevelt/Middle School Parent Pick Up 7 AM - 5 PM Monday - Friday
-High School bus loop 7 AM - 5 PM Monday - Friday
*For information on meal delivery, contact Food Service at 218-847-2309.
Parent Guardian Guide and Refusal for Student Participation in Statewide Testing